8 Months   |   4 people   |  Capstone Project 
+ Design Lead in the team of four
+ Crafted all of the artifacts, from wireframes to hi-fidelity prototypes; paired with another teammate to  conduct user interviews  
This is the Capstone Project in CMU. We worked with Western Governors University (WGU) to help students improve their career development fluency and learning fluency. Our solutions have two parts to transferable skills: one module to teach students career management skills and one personalized tool to teach students strategically solve their learning problems. Here I will only present the solution for learning to learn skill, because I was mainly responsible for the design of this part.
Western Governors University (WGU)
 is a private, nonprofit, online American university based in Salt Lake City, Utah. The university was founded by 19 U.S. governors in 1997 after the idea was formulated at a 1995 meeting of the Western Governors Association. WGU is ranked by US News and World Report's 2017 edition of best colleges.
The university uses a 
competency-based learning
 model, with students working online. Competency-based programs allow students to demonstrate through assessments that they have acquired the set of competencies (levels of knowledge, skill, or ability) required for a particular degree or certificate. WGU is the first accredited school to use the competency-based approach, driving a growing trend toward competency-based higher education. 
__________________________________________________________________________________________________________________________________
DEEPER REASONS BEHIND THE PROBLEM 
Students don't have the metacognitive awareness of the learning strategies.
​​​​​​​
WGU students don't strategically solve their learning problems while they expect to accelerate their learning to get the degree as soon as possible. This is usually because students don't have the metacognitive awareness of the learning strategy. 
The design problem contains two parts: 
1 ) Students don't know what are the effective learning strategies for an online environment 
2 ) Students don't know how to strategically select a strategy that solves their learning problems 
We started to imagine a tool that might accomplish these three goals:
1 ) Studnets understand the purposes of each learning strategy and the connection with learning problems
2 ) Students can use and implement the learning strategies correctly in the context of content area instruction
3 ) Students consciously think about their learning and the use of learning strategies

A personalized learning tool for adult learners to learn how to strategically solve their learning problems
Our proposal was 

Fast Pass

,
 a learning tool designed to teach and train students to learn better, by modeling, scaffolding and facilitating the use of effective learning strategies. The solution focuses on teaching students "how they should use the learning strategies", as well as "why should use them".
1. PERSONALIZED RECOMMENDATIONS BASED ON LEARNING NEEDS 
When students use Fast Pass for the first time, it will ask them a set questions to identify their learning problems. Then, Fast Pass will recommend

 the most effective learning strategy to their learning problems.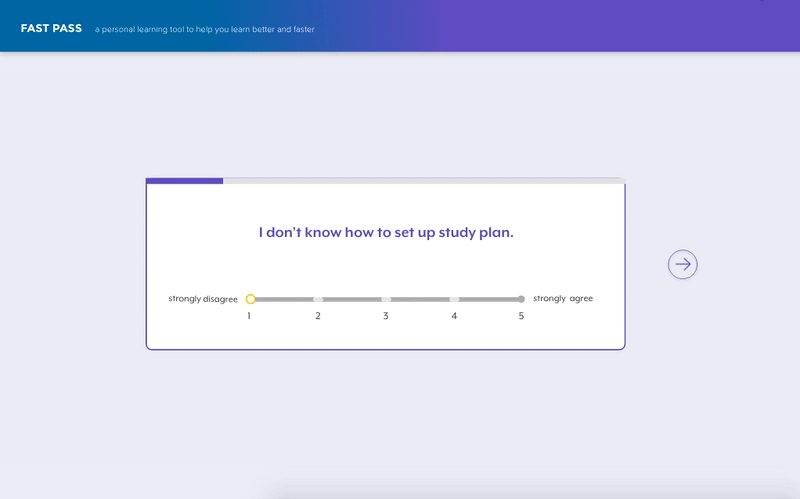 Fast Pass will

explicitly explain 

the benefits and outcomes of each learning strategy

to let students understand the value of the learning activities and how they fit in the learning path.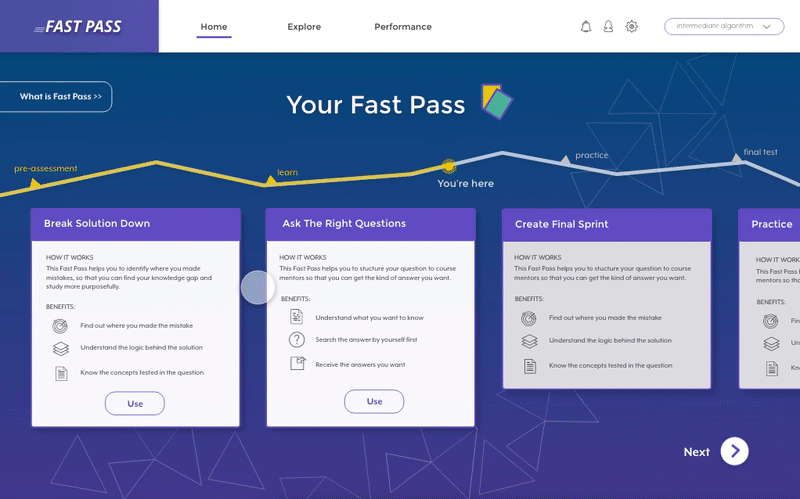 3. LEARN BY DOING
Fast Pass can help students perfect the strategy by providing practice opportunities in the context of content area instruction, so students can learn it by practicing.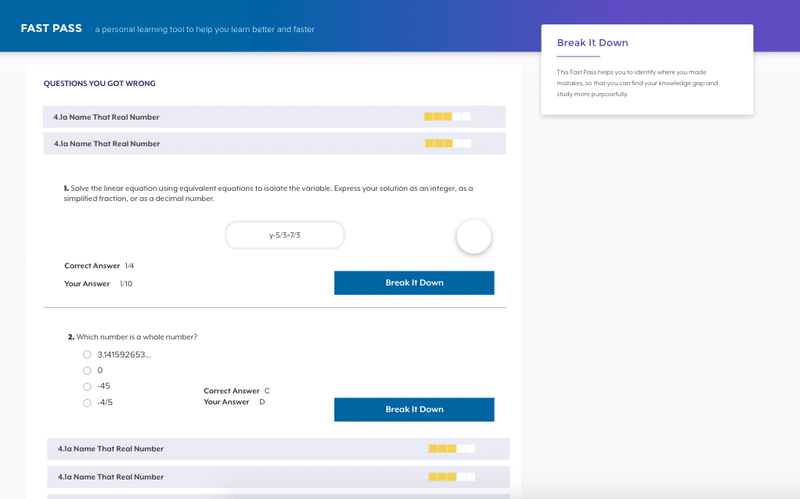 4. not only know the 'how', but also the 'why'
how to strategically think about the steps at the metacognitive level.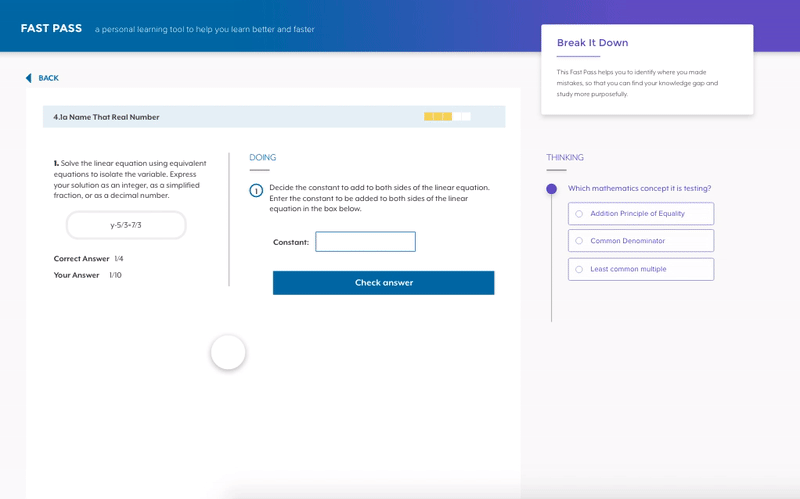 Learning Strategies Development
​​​​​​​
Based on the user interviews and literature review, we developed four learning strategies that can be used in the Fast Pass. By the end,  we prototyped two learning strategies - "break solution down" and "create your own final sprint". The rest are presented in the format of design roadmap. 
The mapping of students'  learning problems, learning needs and the learning strategies showed effective is shown below. Click to enlarge the image: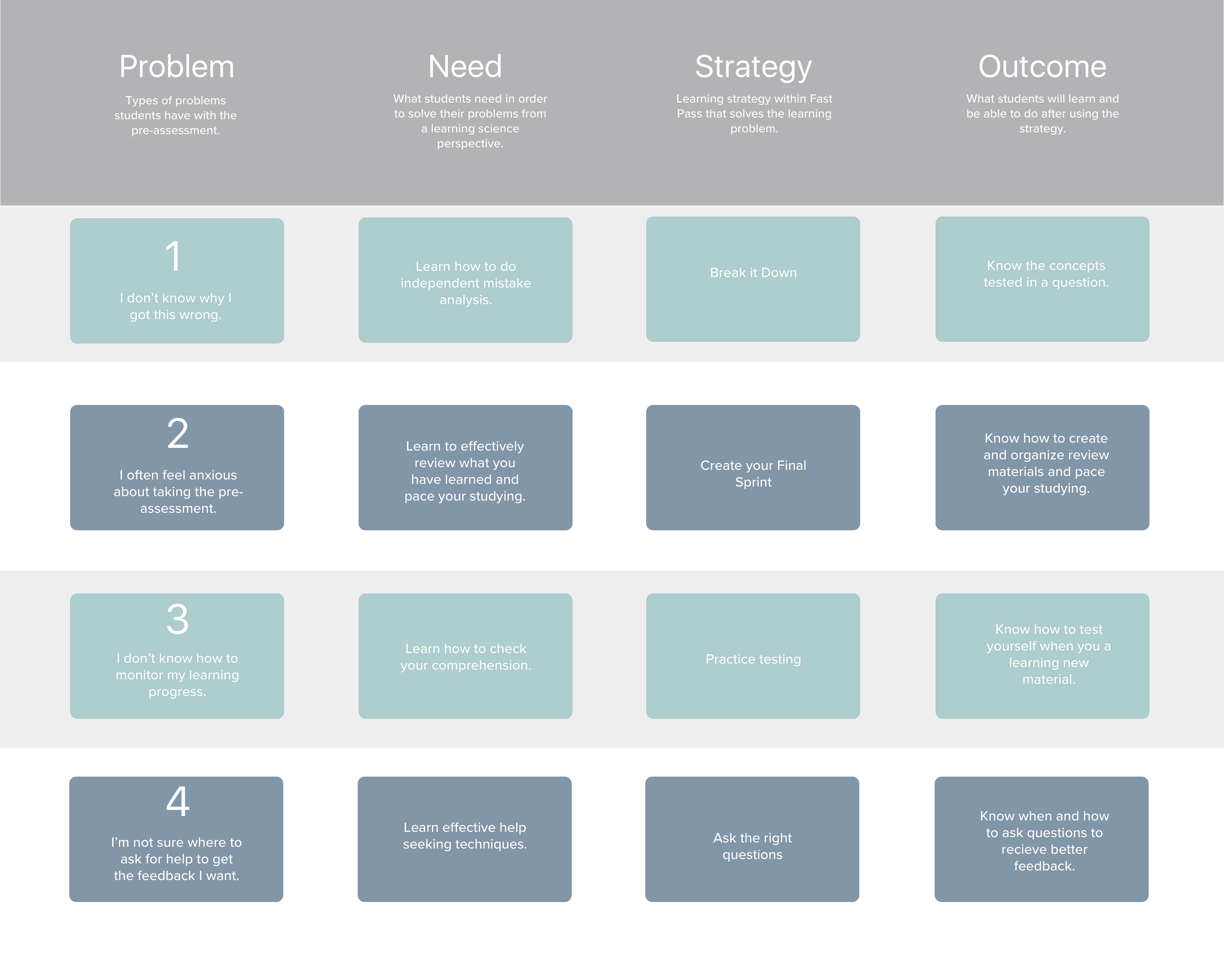 Values to WGU and students 
+ Be able to do the independent mistake analysis;
+ Be able to better prepared for the assessment;
+ Knows how to effectively seek help in the learning process.
+ Improve their meta-learning skills to better plan, monitor and evaluate their learning process, so that they become the effective leaners of any circumstances.
+ Better understanding of WGU students' learning behavior patterns;
+ Improve the efficiency and effectiveness of learning service ( e.g. the course mentors and the student mentors ) based on the student data collected through FastPass;
+ Gain insights for the curriculum design and content purchase;
​+ Stand out from competitors through not only giving students personalized learning experience, but also helping students become the effective leaners. 
__________________________________________________________________________________________________________________________________
At the outset of the project we didn't have a clear mission or specific goals for teaching learning to learn skills. Thus, we set off immediately to build a thorough understanding of the industry, the company and the students.
We start from identifying three guiding questions: 
1 ) What are study skills? And how can they help students succeed? 
2 ) What's the existing WGU experience and where does it need improvement?  
3 ) How do WGU students learn and what do they need?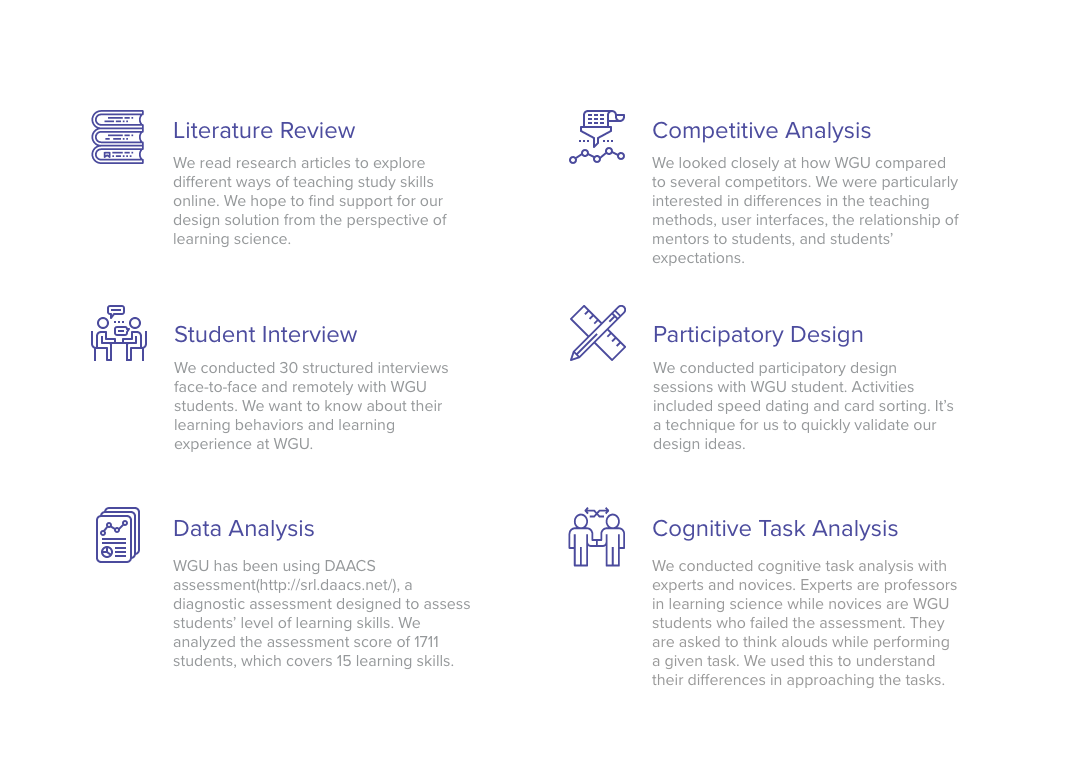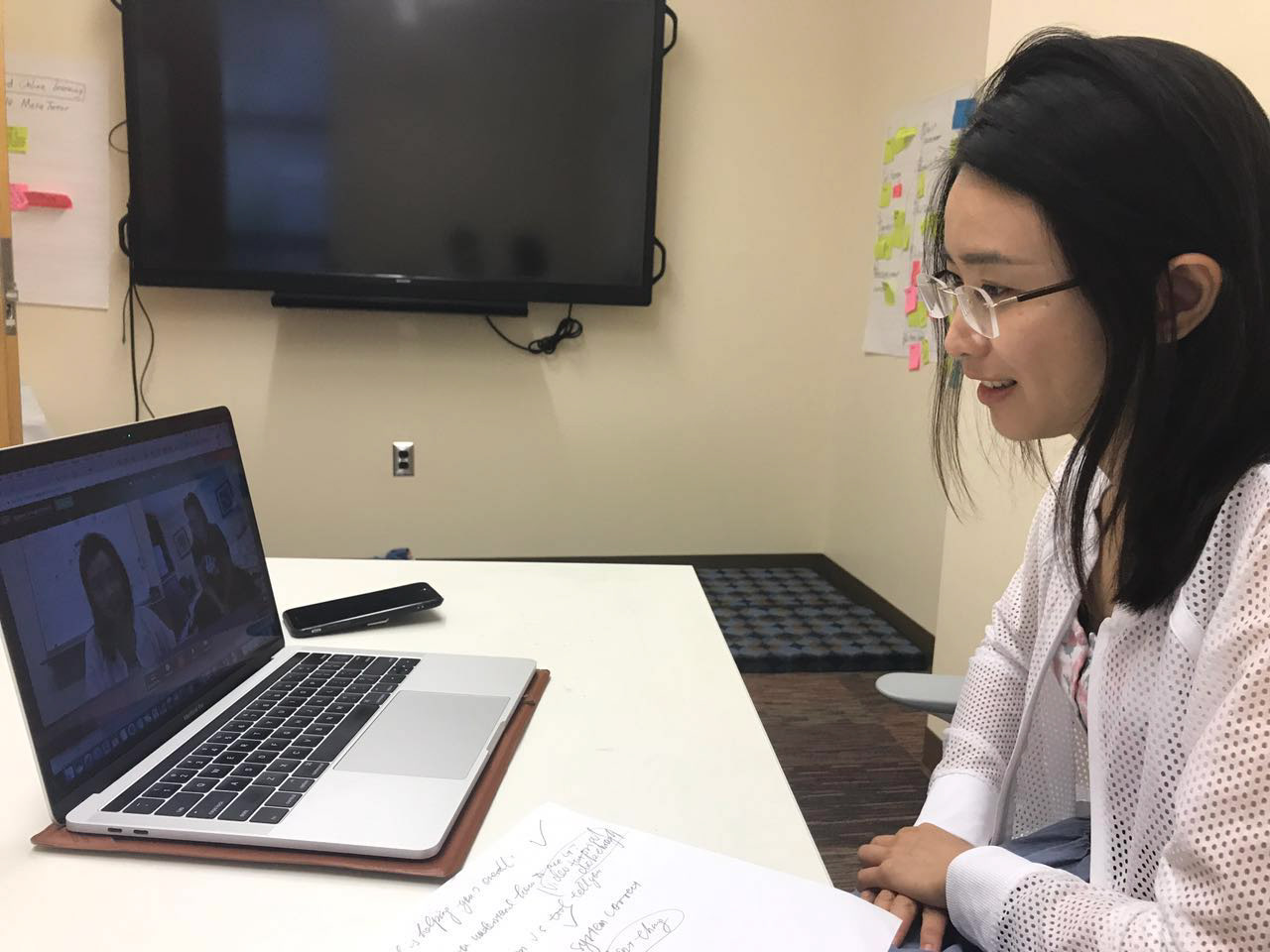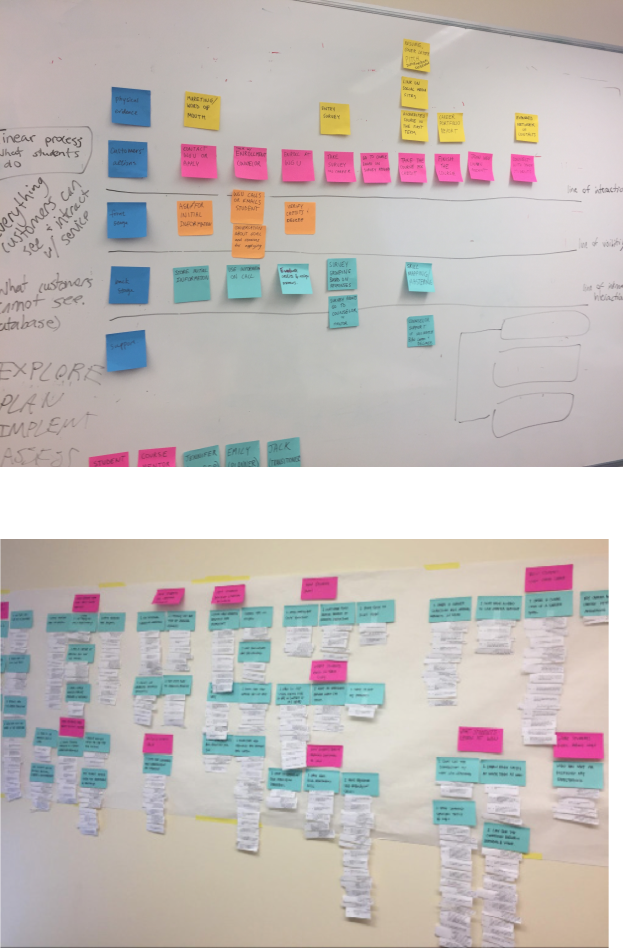 I was conducting the user interview remotely with WGU students; we created the affinity diagrams to analyze interview data. 
Definition of Learning To Learn Skills
Learning to learn skills, describes an individual's knowledge about managing his or her personal learning (Schraw, 2006). It includes learners' beliefs about regulating their memory and thoughts as well as facts about what learning skills work best for them in certain domains. It has three phases: Plan, Monitor and Reflect.
Students' Learning Experience
This customer journey map helped us visualize the current pain points and identify potential opportunities for improvement. For example, after students take the pre-assessment, they will have a very comprehensive result report that indicates which part they need more work on. However, we found that students don't fully utilize the result report and they don't go back to the report in any other points of their learning.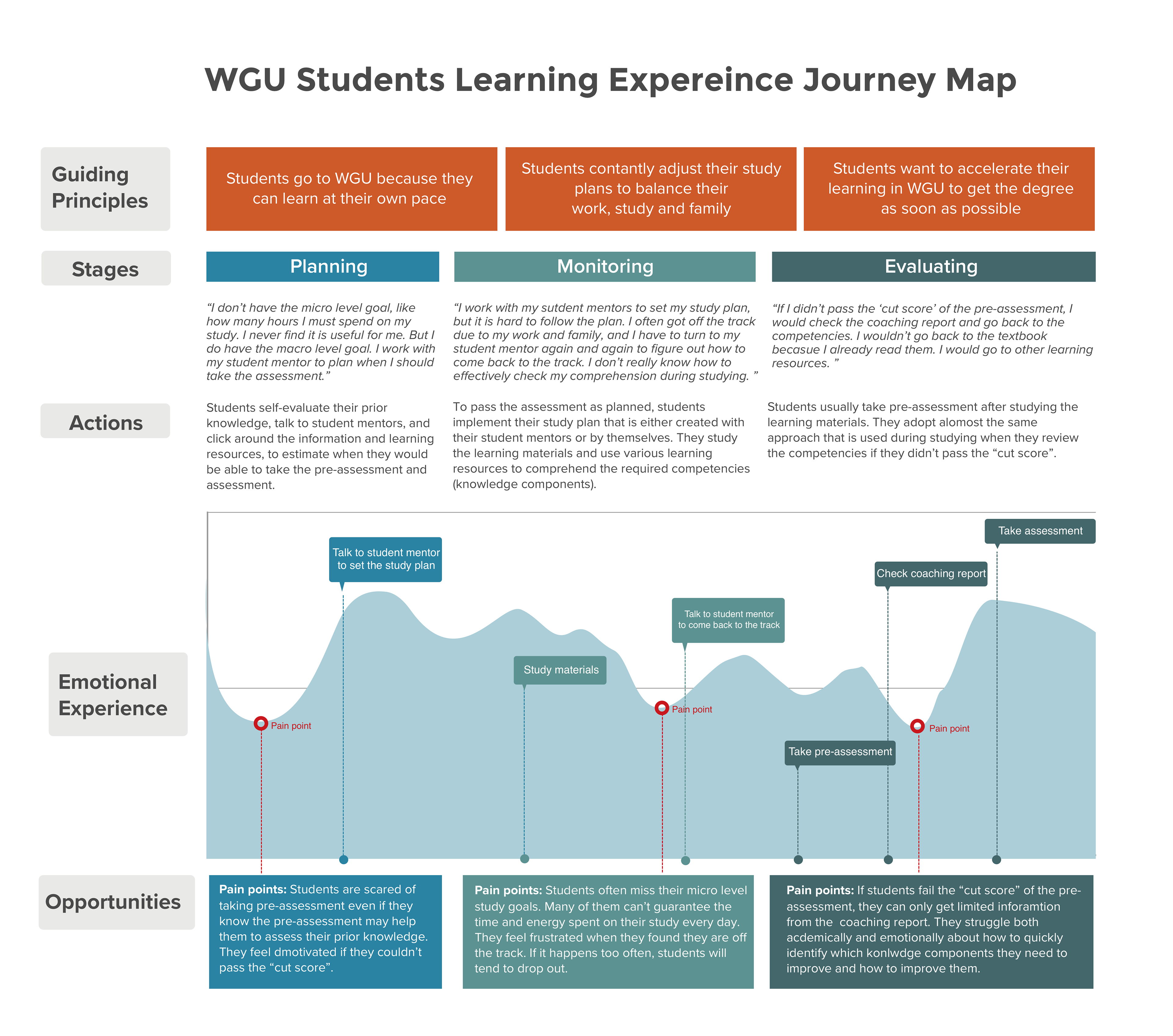 WGU student body is quite diverse. The average age of WGU students is 37. Most are working full-time or part-time jobs while they are students. From our interviews, we discovered the following learning behaviors and needs. 
1. Students are motivated to learn as they experience needs and interests that learning will satisfy.
Since most of WGU students are adult learners, they are very goal-oriented. They can be motivated to learn only if they can see the benefits of learning the contents.
2. Students are very assessment-oriented in their learning.
WGU students are very sensitive to the study load because of their busy schedule. Most of the users we talked to wanted to pass the final test as quickly as possible.
3. The individual differences among students are very big.
Adult learners come in with their own experience, so they are very different in how they learn and where they need more improvement.
4. Students need other people to keep them accountable. 
Mentors take a larger role than expected. Students relied heavily on student mentors throughout their learning. The dependence on student mentors may actually impede students from becoming self-learners. For example, many students did not have the study plan to regulate their study, but relied on their student mentors to keep them on track.
With both the user goals and learning goals in mind, we found a problem that is commonly shared among students and has the potential to address by design. While many students are self-confident about their learning strategies, they often use only one strategy when approaching a problem—even when that method repeatedly fails. For example, one WGU student reported that she spent way much time studying than her classmate. When asked about her learning method, she said that she went over everything in the textbook first, even if she had some prior knowledge in this subject. She didn't think of changing the way she studied. 
At the same time, WGU uses competency-based education, meaning students earn their degrees through demonstration of skills and knowledge in required subject areas, rather than focus on credit hours. This means that students can accelerate the program as much as they want. In fact, almost every student we interviewed express that they want to accelerate their learning to get the degree as soon as possible. 
"...but I want to learn faster to pass the assessment."
These inisghts revealed a design opportunity for us. We narrowed our scope to focus on helping students to solve their learning problems strategically and eventually accelerate their learning. 
Find a common ground in user goals and learning goals
Before going into further investigation, let's take a step back. During the research, I was surprised to see that the educator's teaching goals and the user goals are not always matched. For example, while WGU wants to improve their students' learning skills, the students just want to pass the courses and they didn't see the value of spending the extra efforts on learning to learn.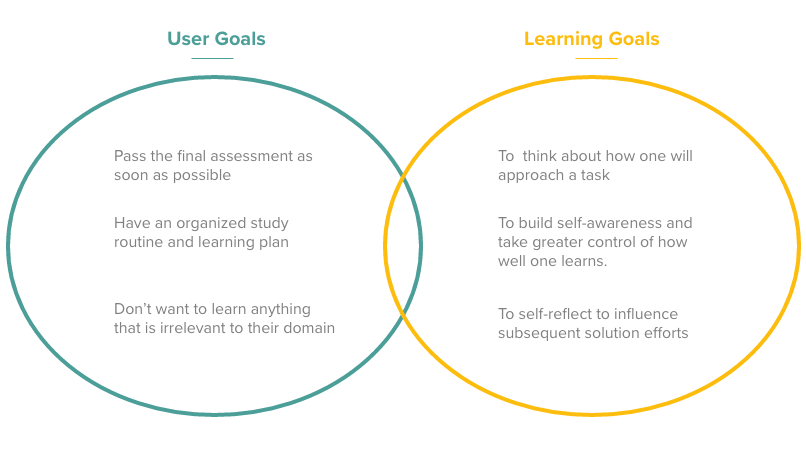 We didn't want to lose balance between educational goals and user needs throughout the design process. I realized that there's a need to establish a set of design principles that guided us to make appropriate tradeoffs. 
Here are a few of the early design principles I crafted: 
FURTHER INVESTIGATION
Create deeper learning experiences
Initially, we were asked by the clients to create a module to teach students learning strategies. However, we found that if students are simply presented the learning strategy, it's unlikely lead to behavior changes. Thus, we shifted from a module to a study tool that helps students use or practice the learning strategies. 
Students may be able to use the learning strategies this time because we told them to do so. But the fundamental goal should be enabling students to become effective learners in long term. We envision such future that, students will be able to select, monitor and reflect the learning strategies based their own needs and problem. They should be able to do this naturally in their future learning. 
The goal is enabling students to become effective learners in long term.
From a thorough literature review, we found that metacognition (think about one's learning) plays an important role in deep learning. Metacognition involves higher-level thinking overseeing lower-level thoughts. 
"Metacognition, or awareness of the process of learning, is a critical ingredient to successful learning."
How does a novice learner differ from an expert learner? To answer this question, we conducted a cognitive task analysis with experts and novices in how they learn. 
We found that novice students selected a seemingly useful strategy and continued to apply it without checking to see if the strategy of choice was actually working well. Thus, a significant amount of time was wasted in fruitless pursuits. The more experienced learners on the other hand, exercised metacognition, monitoring their approach all along the way to see if it was actually leading to a solution or merely to a dead end. Being aware of how one is engaging with the process of learning influences how the student interprets the task at hand, and what strategies are selected and employed in service of achieving learning goals. 
Regularly test and refine our ideas 
1. Focus on the learning problems associated with assessments
Finding:
Our user research shows that the typical learning problems that WGU students have are related to the assessment. For example, students don't fully utilize the pre-assessment to diagnose the knowledge deficits and they don't have effective strategies to prepare for the assessments.
Design Action:
We focused on the learning problems associated with assessments, and all of the learning strategies are built on the assessments. This can tap into students' intrinsic motivation. From user interviews, we understood that WGU students want to pass the assessment as quickly as possible. Students are more motivated to use new strategies if it will help them to achieve their goals.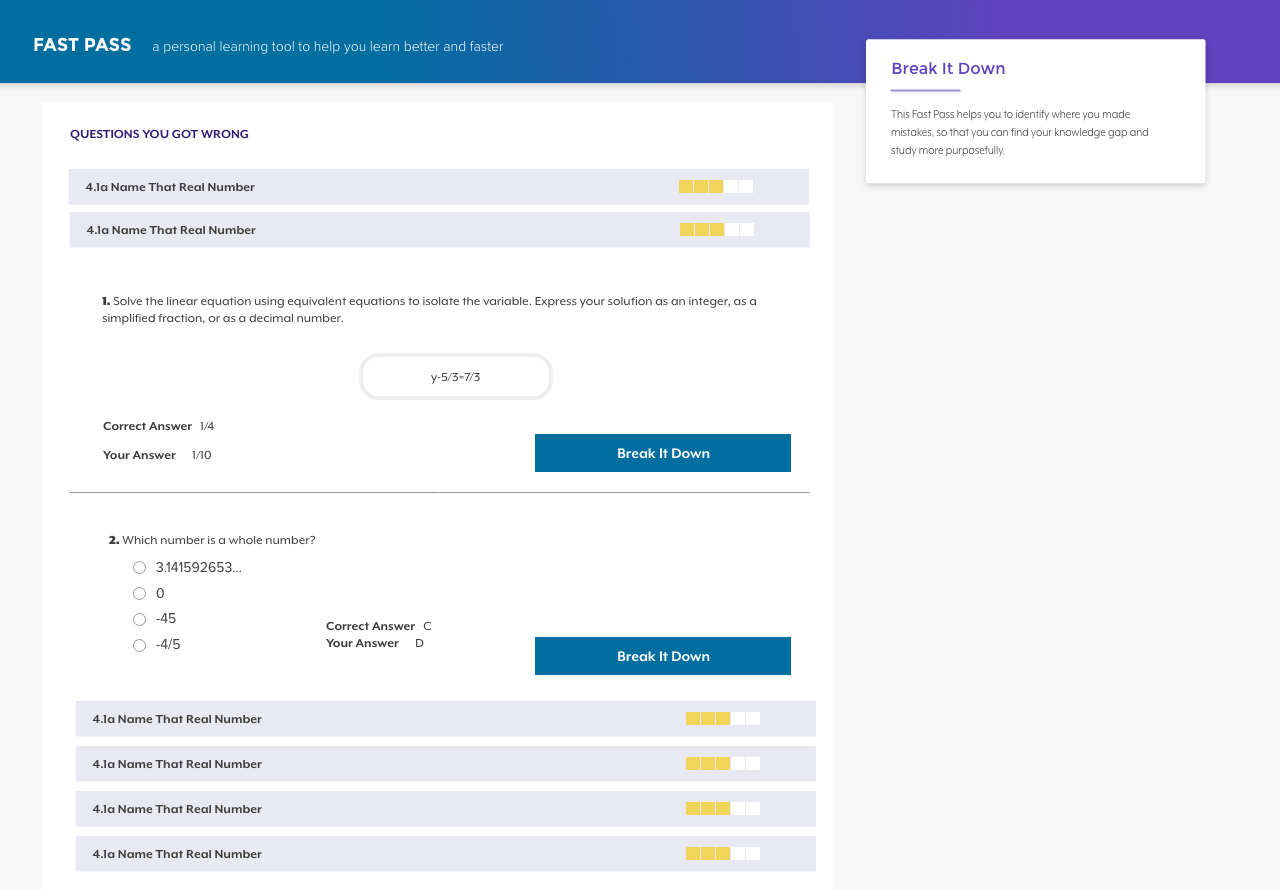 2. Make it clear and explicit to students that they are learning the strategy (metacognition), not the method to solve the specific question (cognition).
Finding:
Many students are not aware of the learning to learn skills. When we first presented them the prototype of Fast Pass, they didn't understand that they were learning the strategy. For example, one user said that "Before your explanation, I thought Fast Pass would teach me how to solve this specific problem, instead of teaching me the method and process."  
Design Action:
We separated the part where students are using the strategy on the specific question, and the part where the tool explains the strategy to them. We also made them two colors so users can easily recognize what exactly they need to learn.
3
. Provide students more personalized experience 
Finding:
  WGU students are very diverse with different levels of learning to learn skills. They are also very sensitive to the study load because of their busy schedule. 
Design Action: 
We want to create a more personalized solution to students' own needs. Thus, as they first log in Fast Pass, they will take a short survey to diagnose their own learning problems. They will get personalized learning strategies teaching based on the result.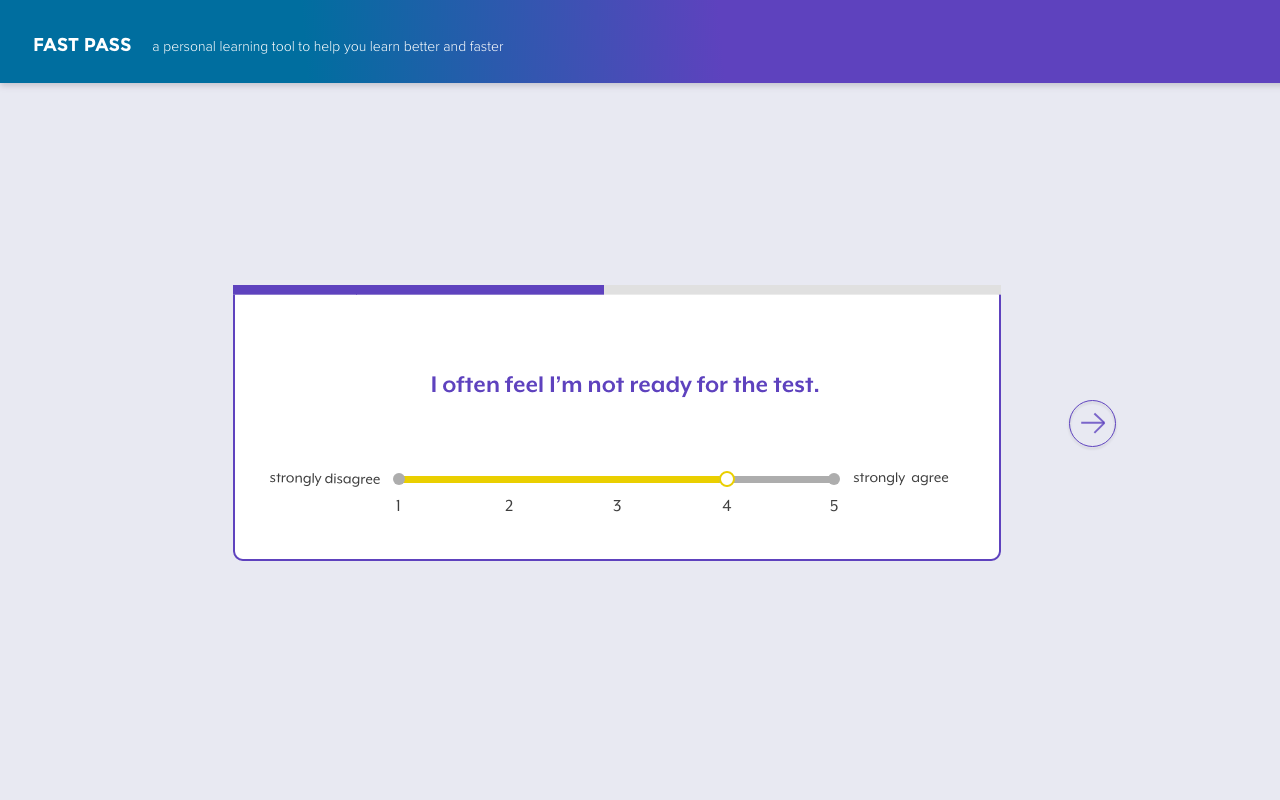 4. Change the learning science jargons into easy-to-understand terms 
Finding: 
In the user testing, we found that students sometimes misunderstood the learning strategies because some words are too academic for them. 
Design Action: 
We changed the wording to be more casual and understandable from students' perspective. For example:  we changed one of the learning strategy's name from "Decompose The Knowledge Components" into "Break Solution Down" 
__________________________________________________________________________________________________________________________________
This has been my favorite design project and also the one I've spent the most time and energy on. I've learned a lot from the project. Here're some of my takeaways: 
1. Good Design Need A Balance.  
 One of the challenges of learning design is the conflict between good learning and user experience. Learning is frustrating in nature because one must take some efforts to learn new things. This sometimes can end up with "unpleasant" user experience. We were constantly asking ourselves how can we find the subtle "sweet spot" that keep the balance between the good learning "suffering" and the user-friendly experience? 
2. Think One Step Ahead Of Your Users. 
Sometimes what users say are different from what they think. And they may not be aware of that. For example, when I asked a student if she would turn to her course mentor if she got stuck. She said no because she can always figure out by herself. So she has no need to ask the course mentor for help. Then I changed the way I asked the question. I told her, from our other user interviews, we found some of her peers feel frustrated about asking the course mentor questions because they don't know how to frame the questions, and the course mentors sometimes just don't give them the feedback as they expected. Then she immediately said: "Exactly! I think that is why I don't like to ask course mentors questions." It turned out that it is not because she doesn't have the need to ask course mentors questions, but because she has some troubles on how to seek effective help from the course mentors. There is a famous saying in the learning science: " You don't know what you don't know." So we as designers should think critically about the user feedback and dig deeper.
3. Start from the end.
There are a lot of different techniques to choose from, each with different strengths, weaknesses, and research goals. As a design lead in the team, I had opportunities to think about how to select the right design process and methods. I found that The first step is to think about: 
What do I want to know? 
 After identifying the specific goals of the project, we should look at the possible benefits of one or more co-design activities, and then align these goals and these benefits.